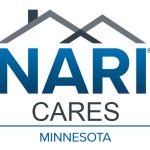 NARI Cares will award scholarship funds as funds are available. Each individual scholarship will be for a student in the state of Minnesota that meets the criteria. Application is due May 5, 2023. Recipients will be notified by mid-May and will receive funds during summer of 2023.
Each student is only eligible for one scholarship.
CRITERIA
NARI Cares will award a scholarship to a high school graduating senior who has been accepted as a full-time student to an accredited college or university in any program of study related to the remodeling industry or to a program of study that provides training related to the remodeling industry. Preference will be given to students entering project management in the construction industry.
The criteria used for selection may include but are not limited to: academic achievement, need, community involvement, and the general essay from the application.
Scholarship money is intended to be used for educational purposes only. Candidates may only apply for one scholarship.
The decision made by the panel of judges is final.
APPLICATION PROCEDURE
Please compile the following documents:
Completed application
School Transcript
Activity profile or separate resume
General Essay (250 words or less)
Two letters of recommendation, (1) Teacher & (1 Personal or Employer)
A letter of acceptance from program of study.
Application packets must be mailed directly to the NARI Cares Scholarship Committee, 275 Market Street, Ste 54, Minneapolis, MN 55405, or emailed to info@narimn.org. Please put "NARI Cares Scholarship" as the subject of the email. All applications must be postmarked or emailed no later than midnight on May 5th, 2023 and must contain all requested information. Late/incomplete packages are automatically disqualified. Awardee(s) will be notified in mid May 2023. Award presented in summer of 2023. Every recipient agrees to participate in testimonials for the program.