Welcome to the 2020 CotY Award Submission Page!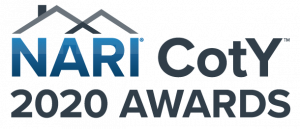 Submissions Are Due September 21st at Midnight!
Please see below to view this year's rules.
Also, don't forget to check out the 'How to Apply For a CotY' video below!
National Association of the Remodeling Industry (NARI) Minnesota
2020 Contractor of the Year Awards Guide
Review the MN rules below (also on the NARI MN website), then the National rules at https://www.nari.org/Recognition-Center/CotY/How-to-Apply
You are invited to compete for the 2020 NARI Minnesota Contractor of the Year (CotY) Awards. The CotY Awards recognize excellence in remodeling.
Companies from one-person shops to the largest remodeling firms have reported that winning this award is a major factor in enhancing their image within the industry and with prospective customers and is a major morale booster for their employees. These guidelines will help you understand the categories for entry into the CotY competition, the judging procedure and the criteria on which entries will be reviewed.
Remodeling project entries are judged on five criteria: meeting clients' objectives, functionality, aesthetics, craftsmanship, and innovation. New this year; the criterion of overcoming obstacles was combined with another question.
Entries can be resubmitted if the entries have never won in any capacity in the Minnesota competition, including Silver, and they still fall within the project completion guidelines for that year.
Whether you are a seasoned participant or a first-time entrant, thoroughly read these easy steps for submitting an entry to the NARI MN Contractor of the Year Awards competition.
The project finish date must be between December 1, 2017 and September 11, 2020.
Important to know for local entrants in 2020:
Only NARI contractor members in good standing are eligible to enter. Entries must be submitted on or before September 21, 2020. All entrants' membership records will be checked to verify their classification as a contractor member. Projects not meeting this requirement may be brought to the CotY Committee for submission approval. Projects can only be from Minnesota or a border state. Therefore, only projects from MN, WI, IA, ND, and SD will be accepted. The fee for the first entry purchased is $175. The fee for additional entries is discounted to $150 per entry. Fees are non-refundable, non-transferable, and cannot be carried over to subsequent years.
Single Entrant Winner – A single entrant in a category may receive an award based on the overall average scores for the year's submissions.
A contractor member company may enter multiple projects in multiple categories and may enter a maximum of two projects in the same category. If applicable, a project may be entered in multiple categories.
If you have a large, multi-area project, and would like to enter just a portion of it, you may break it out and/or enter the entire project. For example, if your project included the remodel of a kitchen, family room, and two baths, you could enter a kitchen category, an interior category, two bathroom categories, and/or a whole house category. This is true for National submissions as well.
Include information on your trade associate partners in the Other categories in the submission process. These partners will be considered eligible for the Pillar Award, the companion award for trade partners.
Updates for 2020 for local entrants:
This year, local categories will be different from national categories, in that some local categories will now be combined. You will see the combined categories only on this rules page and the NARI MN website. See below for the Minnesota Categories.
NARI of MN does not offer a team option. Please follow the National Team Member process for your local entry if you are planning to roll up any of your local entries to National. Call the NARI National office with questions about team entrants – 847-298-9200.
New this year; the criterion of overcoming obstacles was combined with another criteria question.
Please be aware the time frame for project completion is different from NARI National. See NARI National rules, website, https://www.nari.org/NARI/media/Documents/2021_NARI_CotY_Award_Program_Rules_1.pdf.
The "Summary of Project Section" in the online submission is where you can add language for your Master of Ceremonies Script to be read at the CotY Awards Banquet – In the event your project is chosen as a winner, the Master of Ceremonies will read a brief description of your project to the audience. Please provide a description of your project in 100 words or less. Descriptions may be edited without your approval.  You are encouraged to include information about critical staff or business associates that contributed to the success of your project. Please include a pronunciation key for all names, products, and companies mentioned in your MC script. DO NOT ADD THIS LANGUAGE TO YOUR PDF submission.
NARI of MN – Local Categories:
The NARI of MN Chapter/Local awards is using the National platform for 2020 but will combine the five categories. For example,
All Commercial projects will be considered under one Commercial category.
Please be aware that if you intend to enter the Regional/National competition these two Addition Categories will be separate. Please contact the NARI of MN office with any questions – 612-332-6274.
MINNESOTA CATEGORIES:
Category 1:
Residential Kitchen Under $30,000
Category 2:
Residential Kitchen: $30,000 to $60,000
Category 3:
Residential Kitchen $60,001 to $100,000
Category 4:
Residential Kitchen $100,001 to $150,000
Category 5:
Residential Kitchen Over $150,000
Category 6:
Residential Bath Under $25,000
Category 7:
Residential Bath $25,000 to $50,000
Category 8:
Residential Bath $50,001 to $75,000
Category 9:
Residential Bath $75,001 to $100,000
Category 10:
Residential Bath Over $100,000
Category 11:
Residential Interior Under $100,000
Category 12:
Residential Interior $100,000 to $250,000
Category 13:
Residential Interior $250,001 to $500,000
Category 14:
Residential Interior Over $500,000
Category 15:
Residential Interior Element under $30,000
Category 16:
Residential Interior Element $30,00 and Over
Category 17:
Residential Addition Under $100,00
Category 18:
Residential Addition $100,000 to $250,000
Category 19:
Residential Addition Over $250,000
Category 20:
Residential Exterior Under $50,000
Category 21:
Residential Exterior $50,000 to $100,000
Category 22:
Residential Exterior $100,001 to $200,000
Category 23:
Residential Exterior Over $200,000
Category 24:
Residential Detached Structure
Category 25:
Entire House Under $250,000
Category 26:
Entire House $250,000 to $500,000
Entire House $500,001 to $750,000
Category 27:
Entire House $750,001 to $1,000,000
Entire House Over $1,000,000
Category 28:
Residential Historical Renovation/Restoration under $250,000
Category 29:
Residential Historical Renovation/Restoration $250,000 and Over
Category 30:
Commercial Interior
Commercial Exterior
Commercial Specialty
Category 31:
Landscape Design/Outdoor Living Under $50,000
Category 32:
Landscape Design/Outdoor Living $50,000 to $100,000
Category 33:
Landscape Design/Outdoor Living $100,000 to $250,000
Category 34:
Landscape Design/Outdoor Living Over $250,000
Category 35:
Basement Under $100,000
Category 36:
Basement $100,000 to $250,000
Category 37:
Basement Over $250,00
Category 38:
Green – Residential Interiors
Green – Residential Exteriors
Green – Entire House/Addition Projects
Category 39:
Universal Design – Kitchen
Universal Design – Bath
Universal Design – Interiors
Universal Design – Exteriors
Universal Design – Entire House
Category 40:
Residential Project under $25,000
Description: Best residential project with a TOTAL project cost under $25K.
Category 41:
Associate of the Year (contact the NARI of MN office to receive the application. This is not part of the online submission process).